Juniper Systems product, ready to reliably collect data in even the harshest conditions.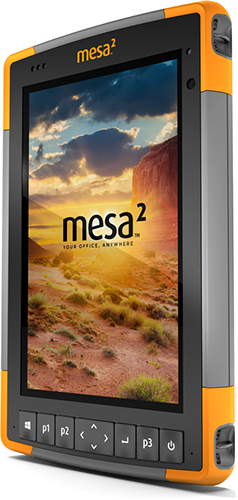 The Mesa is a data collection powerhouse with massive screen real estate, yet still feels like a compact handheld at the end of a long work day. To make life even easier, the Mesa comes with a speedy Windows® Embedded Handheld 6.5 operating system that features a custom Juniper Systems finger-friendly onscreen keyboard, plus new GPS and camera enhancements.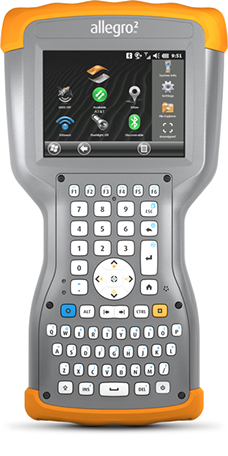 The Allegro Field PC® line has long been favored for applications with high-volume data collection, and the Allegro 2 is no different, except for the fact that it's only gotten better. With a newly-designed QWERTY + numeric keyboard, the Allegro 2 features large, glove-friendly buttons, allowing for faster, non-visual (if you're into that) data entry. It's had a massive upgrade in battery power, display visibility, touchscreen, connectivity…oh, pretty much everything. We give you…the Allegro 2, designed for the data-intensive.
MESA 2 RUGGED TABLET
The non-incendive Mesa 2 may be used in hazardous locations where ignitable concentrations of flammable gases, vapors, liquids, dust, fiber or flyings are not part of the normal environment but can become so under unusual circumstances.
US/Canada certified to Class I,II,III and Division 2 (Groups A,B,C,D,F,G) for use in Hazardous Locations in where potentially explosive gases,  dusts, or fibers are present.  Conforms to ISA Std 12.12.01-2013 and is Certified to CSA Std C22.2 Nos. 25 & 213.
Standard Configurations
Part #
Description
Price (NZD)
MS2-200-HL
Mesa 2 GEO N. America – CI,II,III,D2 Hazloc
$4,085.71
2MP Front/8MP Rear Cameras
Integrated GNSS receiver & antenna
128GB eMMC Internal Storage
MS2 Built-in Battery w/Hot Swap
MS2-201-HL
Mesa 2 GEO RFID N. America – CI,II,III,D2 Hazloc
$5,005.71
2MP Front/8MP Rear Cameras
Integrated GNSS receiver & antenna
128GB eMMC Internal Storage
MS2 Built-in Battery w/Hot Swap
UHF RFID Reader integrated into the Mesa 2 with integrated internal antenna.  Region-specific frequency configurations (859-873 MHz & 915-930 MHz).  EPCglobal Gen 2 protocol support.  Wide output range (0 dBm to +27 dBm).
MS2-202-HL
Mesa 2 GEO BC N. America – CI,II,III,D2 Hazloc
$4,862.86
2MP Front/8MP Rear Cameras
Integrated GNSS receiver & antenna
128GB eMMC Internal Storage
MS2 Built-in Battery w/Hot Swap
Integrated 1D/2D barcode scanner
Rechargeable Li-Ion Battery
AC Wall Charger (select US or International Adapters)
USB Sync Cable
Stylus
Hand Strap
Ultra-Clear Screen Protector (2 pack)
Product CD-ROM (License and Manuals)
Carrying Case
Quick Start Guide
A2 Single Ethernet Dock: Single slot power/charging and communications desktop dock. Includes ports for 12V power, USB Client, and 10/100-BaseT RJ-45 Ethernet. Includes USB-A to USB-B PC sync cable, and Archer 2/Allegro 2 adapter insert. Requires 22769 20W international power supply.
Vehicle charger cable: 12VDC cable, fits standard 12-volt vehicle power port, 6 ft
8 GB micro SDHC memory card
USB micro client sync cable: USB-A full size to USB-B Micro, 6 ft.
Serial comms (null modem) cable: A 9-pin Serial F/F Null Modem Cable for communications via serial port to a PC.
Replacement hand strap
Capacitive stylus with tether kit: Includes 3 styli & 3 nylon tethers
Allegro 2 docking module replacement kit: field-replaceable interface module assembly for easy repair of damaged parts. Includes installation instructions & hardware.
Handheld holster case, orange: Soft, padded top-load case with Velcro flap closure, front cable storage pocket, belt loop, and adjustable shoulder strap. Comes in high-visibility safety orange.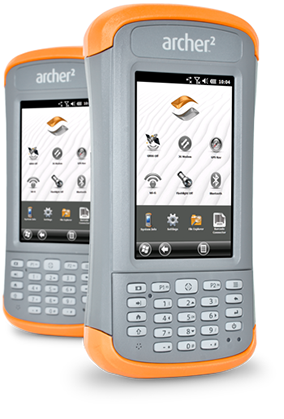 The Archer 2 incorporates all the best things about the Archer and adds to them. Featuring a new IllumiView™ high-visibility display, the Archer 2 remains extraordinarily bright under even the most glaring sunlight. You'll love the responsiveness of its large, glove-friendly, capacitive touchscreen and numeric keypad, allowing you to input data at unprecedented speeds. And for those work days that just seem to go on and on, you can trust the Archer 2's custom Overtime Technology™ battery will get you through it, no problem.
Built and tested to the most rigorous of standards, the Archer 2 was designed to be your reliable companion, wherever your job takes you. This tough handheld runs smoothly in all conditions, from freezing cold to blistering heat. Carrying an IP68 rating and tested to MIL-STD-810G for water, humidity, sand and dust, vibration, altitude, shock, and temperature, the Archer 2 can handle just about anything you throw at it. We also have an Archer 2 Hazloc model available with Class I, II, and III, Division 2 certifications for hazardous locations.
Archer 2 HazLoc Field PC Packages
Part #
Description
Price (NZD)
AR2-HLS
Archer 2 Standard – CI,II,III,D2 Hazloc
$3,005.71
AR2-HLG
Archer 2 Geo – CI,II,III,D2 Hazloc
$3,520.00
AR2-HLGC
Archer 2 Geo Cell – CI,II,III,D2 Hazloc
$4,164.29
AR2-HLGCD
Archer 2 Geo Cell – CI,II,III,D2 Hazloc CDMA
$4,164.29
AR2-HLGB
Archer 2 Geo Barcode – CI,II,III,D2 Hazloc
$4,091.43
AR2-HLGCB
Archer 2 Geo Cell Barcode – CI,II,III,D2 Hazloc
$4,662.86
AR2-HLGCDB
Archer 2 Geo Cell Barcode – CI,II,III,D2 Hazloc CDMA
$4,662.86
System includes:
Main Unit with Orange Bumpers
Docking Communications Module
Connector Cover
10,600mA Lithium-Ion Battery
20W Universal Power Supply
USB Micro Client Sync Cable
Hand Strap (pre-installed)
Capacitive Stylus + Tether
Quick Start Guide
Shipping Box with Sleeve
Includes 2 year manufacturer's warranty
Specifications, models, and pricing subject to change. Prices are RRP excluding GST