Van Sales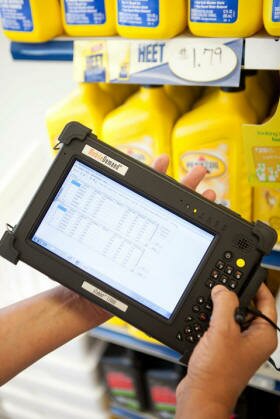 Van Sales operations come in a variety of complexity and scope. Our apps allow you to manage mobile inventory monitor the remote sales process reduce paperwork and create more time for more customer visits per day or increased levels of customer service.
Do More
By helping remote workers be more effective they get more done in a day. The elimination of paperwork and re-keying of data reduces errors and speeds up back office functions. Whilst the ability to monitor stock levels in the field and to manage re-ordering points is a real opportunity for cost savings.
Loading
In many Van Sales installs the paper trail begins at the loading dock as a list of product generated by customer for each round or route. Rather than produce this list on paper our app can integrate with an existing CRM or ERP system to pull the list onto a handheld. Product can then be scanned using bar codes or RFID onto a vehicle thus reducing error and ensuring that the correct product is on the right round. This step is key and can reduce headaches later as any product being returned can be compared to the list that was originally sent out thus making subsequent decisions about scrap or refunds an easier process.
Desktop
In some cases a van sales administrator manually prepares the amount of product for each customer. Our desktop portal allows an administrator at the office to configure drops and re-sequence them during the day if necessary using the built in scheduler. The management of ongoing return visits and production of reports can also be managed through this interface. The administrator can also do two way text communications direct into the mobile app to give the driver of new instructions.
Mobile Worker App
The handheld app includes a list of checks to be conducted before the use of the vehicle and a incident notepad for the user to record any comments they may have need to make when on the road.
The van sales mobile app can run on a wide variety of rugged and consumer portable devices. From small pocketable to larger multi functional tablet devices with larger screen sizes that can also run desktop products such as email. Turning the unit into a mobile office for workers who might work away from base.
The use of 3G communications and GPS allows the worker to receive jobs and update the main system with results in real time. GPS allows the office to monitor his whereabouts and confirm time on and off site. Mobile devices have barcode scanning capability which helps keep track of stock on a vehicle. Devices all have built in cameras to allow workers to take pictures that can be stored as part of the work record a useful audit trail later. On device Sat Nav can help the driver get to new addresses in teh most efficent way.
Once the driver sets off on his journey he can step through some easy to manage screens that allow him to:
Carry out deliveries of pre-ordered product. Scan items off vehicle. Produce receipt.
Edit and remove stock.
Carry out ad hoc sales transactions.
Retrieve damaged or out of date stock and/or packaging materials.
Recieve a change worker job assignments & routes.
Record GPS location of drops.
Carry out on screen proof of delivery.
Specific fields can be locked to ensure the worker fills out critical compliance information before moving on to the next screen.
Drop Off
Even if the product has been left at the customer premises unattended or where the customer has been present many audit trails require a receipt to be left confirming product dropped off time date etc. This can be printed on a variety of bluetooth receipt printers which can be carried or vehicle mounted. A .pdf invoice or receipt of the completed activities can be created automatically by the system with copies transmitted to the office to be printed or sent by emails to individuals such as the customer.
If your operation needs to process payment for each visit and you are using portable pin pads the confirmation number can be entered into the record as an audit trail
Reports and End of Day Consolidation
A number of reports can be produced driven from the data captured as each round is completed. Standard reports include:
The driver can produce a number of end of day reports direct from his hand held device to record:
Vehicle check and driver debrief/coaching.
Returns settlement – scan items into scrap or back into stock.
Roll over items to be delivered another time.
Where necessary perform a cash settlement route accounting reconciliation.
Van Sales: Get in touch to see how our Van Sales solution can help make sure that your operation always delivers.