Building Inspection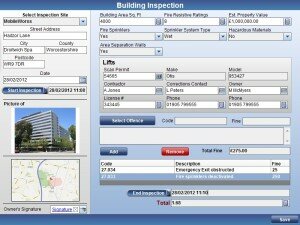 Building Inspection Solution allows organizations to bridge the gap between the office and the field by eliminating field based paper processes. Providing field based building inspectors with all they require to efficiently carry out their inspections.
A mobile application confirms the onsite attendance of the building inspector through logging the GPS co-ordinates as well as time stamping the inspection as the building inspection is initiated. The inspector is then guided through the inspection process ensuring that nothing is missed out. Detailed information on the inspection can be captured via the keyboard, camera, barcode scanner or screen of the mobile device.
Details regarding all issues, offences and penalties are captured during the inspection with final onscreen signature being captured on completion. A complete inspection report can then be printed for the customer via a portable printer providing them with a physical copy of the inspection. The complete inspection is then transmitted to the back-end host providing instantaneous updates.
This out of the box solution will completely transform your business by exponentially increasing efficiency, accuracy and productivity.
Key Benefits of our Building Inspection solution include
Less paperwork – Inspection information captured directly into the mobile device.
Direct integration – No more re-keying data as inspection information automatically transmitted to the back end management systems.
Decreased billing cycle times – Immediate updating and invoicing for all inspections as they occur.
Real-time visibility between the back office and field workers
More visits per shift – dynamically re-allocate and schedule work.