At Global Communications we know the importance of a scanner in hand. Your workers can capture the data that matters most — as fast and as accurately as possible. And whether you need barcode scanning on the manufacturing production line or in the aisles of your warehouse, we have a scanner that's right for your environment and your application.
ADD ANOTHER DIMENSION TO YOUR DATA CAPTURE CAPABILITIES
Upgrade to 2D imaging technology
This can transform the customer experience in Retail and Hospitality as well as facilitate a caregiver's interaction with their patients in Healthcare and accuracy in the warehouse.
For over 35 years, Zebra has set new standards in the barcode scanning industry, providing cutting-edge technology and products across all vertical markets. It's no wonder that customers, large and small, trust Zebra for their imaging needs as do we.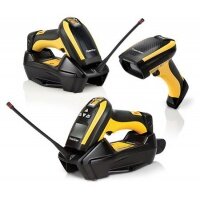 Rugged Scanners
Prevent errors, improve productivity with our scanners — designed specifically for all industries.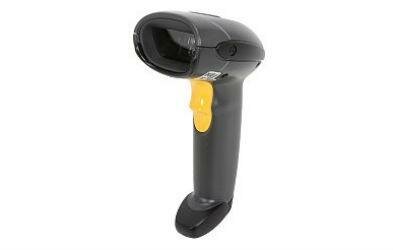 All Industry Scanners
Tough scanners combine industry-leading data capture technology with an exterior virtually impervious to damage as well as speed that will make a difference in your business.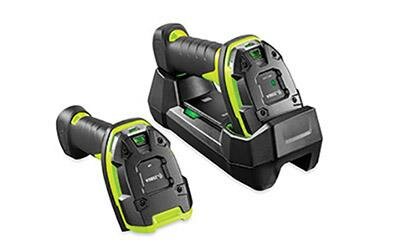 Ultra-Rugged
The industry's first complete line of corded and cordless ultra-rugged scanners that redefine industrial scanning with new standards for rugged design, scanning performance and manageability.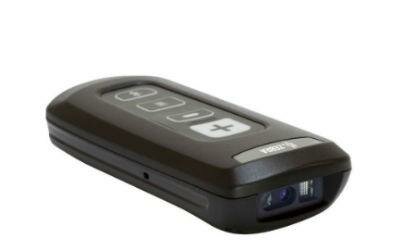 Companion Scanners
Our series of companion scanners enables enterprises to easily implement 1D laser scanning where either mobility or the cost and size of a traditional scanning device is an inhibitor.
Colorful Hand Scanner (CHS)
Series 7
Mobile Point of Sale Barcode Scanners
Overview
Not only is the Colorful Series 7 easy on the eyes, it is also easy to use. Formed to fit comfortably in the hand and built lightweight for long hours on the job, this scanner is dressed to impress both consumers and end users in retail settings. But it is more than just the scanners' looks that are striking. The Series 7 is also certified by Apple® for iOS devices and compatible with Android, and Windows devices, the Series 7 is adaptable to the most widely used operating systems to better ensure operating satisfaction.
Certified by Apple® for iOS devices – Guaranteed Compatibility
Compatible with Android and Windows devices
Ergonomic and lightweight – fits comfortably in the palm of your hand
Made with antimicrobial material for protection against potentially harmful microbes
Battery Friendly®

 

technology enables battery lasting a full work shift
Robust

 

Bluetooth®

 

wireless technology connectivity for long range cordless freedom
Ideal for retail POS, field service, inventory management, asset tracking and more
Comes in six different colors: Blue, Gray, Green, Red, White, Yellow
Designed and assembled in the USA
In-depth Developer Support
Fully Programmable
DuraScan®
 

700 Series
Barcode Scanners
Ergonomic, Elegant and Rugged

Built rough and tough for applications in warehouses, outdoor distribution, and industrial manufacturing conditions, this Bluetooth® wireless technology scanner's seal withstands dust, water splashes, and germs.  However, its softer side still remains light and comfortable in working hands, as well as elegant for showcasing and use in boutique environments for high-end clientele.

With a dual personality, the DuraScan can be used for your business' behind the scenes needs (warehouses, stocking, shipping, etc.) as well as the front end of your business, to impress customers with such sleek style and dependable data capture technology sitting in the palm of your hand.

MFi certified by Apple® for iOS devices (iPad®, iPhone®, iTouch®) and compatible with Android and Windows® smartphones and tablets.
Optimized for smartphones
SocketScan™ 800 Series
(formerly Series 8) Barcode Scanners
Overview
Used with devices of different shapes and sizes, the 800 Series can be used as an attachment for a mobile device or detached alongside a tablet or other mobile device. Intended for convenience, on-the-go business transactions, it is easily detached and reattached. Suitable for fitting in a pocket, the credit-card-size scanner is one of the smallest and lightest barcode scanners available in the market today – weighing less than two ounces (48g) and less than ½ inch (1.27cm) thick. In addition, the 800 Series features Battery Friendly® technology to last a full work shift, including Android and Windows device compatibility, and Apple® for iOS device certification.
Certified by Apple®

 

for iOS devices – Guarantees Compatibility
Compatible with Android and Windows devices
Made with antimicrobial material for protection against potentially harmful microbes
Battery Friendly® technology enables battery lasting a full work shift
Robust

 

Bluetooth®

 

wireless technology Connectivity
Ideal for retail POS, field service, inventory management, asset tracking and more
Designed and assembled in the USA
In-depth Developer Support
Fully Programmable